Introduction
This absorbent panel is probably the quicker, easier and cheaper design ever. Maybe its look are not "as professional" as other ones, but acoustically speaking, it works as good as any other. If you are low on budget, it's probably your best option so... let's start!
Tools and Materials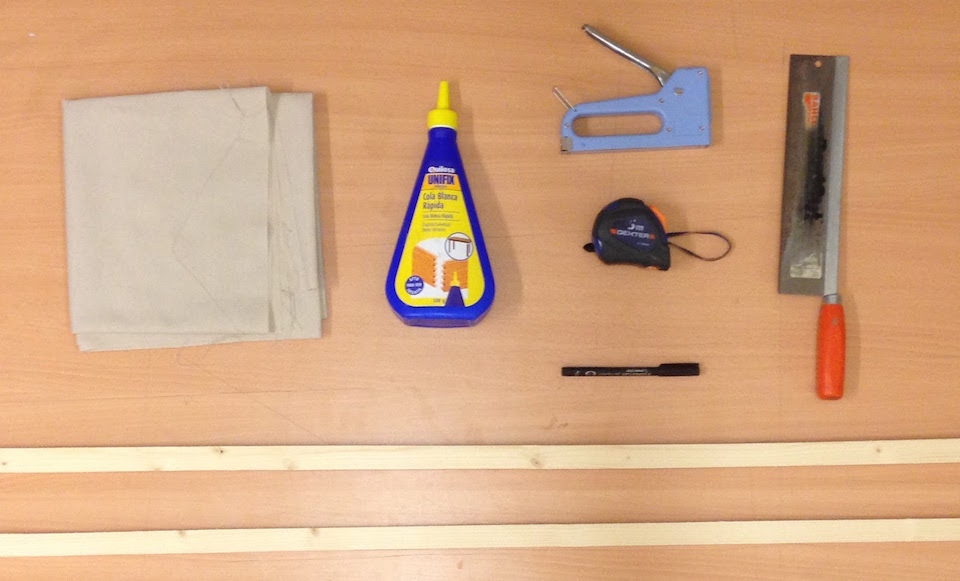 Wood strips: Any wood strip thicker than 5mm will work.
Fabric Canvas: Any regular canvas should work.
White Glue: Simple old fashion white glue. Scissors: Cutting fabrics requires extra sharpness, remember that :)
Glue Gun: Any cheap glue gun is valid. It costs 10€ approx
Rockwool or fiberglass: Best results with among this range 40-70 Kg/m3

Safety tips
Be careful when using the saw
Safety gloves are recommended
Step 1: Cut the wood strips
In order to make the frame, we will use a simple manual saw to cut your wood strip into 4 smaller strips of 60cm long.
Step 2: Glue the wood strips together
The idea is to make a square shape with the wood strips. In order to do so we will stick them together with white glue and staple them to keep the strips tightly together while the glue dries.
Step 3: Prepare the fabric and the Rockwool
Start cutting Rockwool rectangles measuring 60x60cm. And prepare two fabric rectangles. One measuring 80x80cm and the second one measuring 60x60cm
Step 4: Staple the fabric to the wood frame
We use the big piece of fabric measuring 80x80cm. First, we staple two opposite sides we start with the corners to try to keep the fabric a bit tense and looking nice. Then we can put a staple in the center of each side and in some more in between the first three.
Second, we staple the two remaining sides like when wrapping a box for a gift with paper.
Step 5: Seal the Panel
We use the small piece of fabric measuring 60x60cm to close the panel. We start stapling at the corners like we did before to make the fabric tense and looking nice. In order to have a nice finish, we bend a little bit the fabric so it has no loose threads.
The finished Super Simply Panel
Now you should have your very first Super Simply Absorbent Panel in your hands. I hope it looks great, but don't worry if it's not perfect. You will do it better with the next ones now that you know the process.
‍
‍
‍
This tutorial is still quite new. If you think something is not explained enough or you got stuck somewhere, we really wanna know. Please send us an email to [email protected].
Any suggestions, any questions, anything... yes, we are at [email protected].
Has it helped you? Did you build it? Would you improve something? Please don't be shy, we take feedback really really well :)
Thanks!
‍
‍
Oh, and if you liked this tutorial, follow us for more!